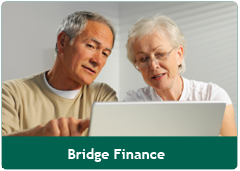 Flexible and Fast Bridging Finance direct from the Bridging Loans Provider
The Sterling Capital unique bridging loan proposition is that we lend up to 100% purchase price or 70% of independent valuation. Unlike almost all other established bridging finance companies Sterling Capital financing offers will be based upon a percentage of an independent valuation of a property and not a percentage of the purchase price. Importantly this significantly improves your bridging loan calculations where you have identified and can acquire a property at less that its true value you will need to put in less equity and in certain circumstances none whatsoever.
Bridging Loans for Motivated vendor purchases
Many bridging finance borrowers at Sterling Capital have relationships with vendors, intermediaries and agents who have originated or can provide access to sellers who are financially motivated either due to divorce, broken chain, mortgage arrears or simply unable to find a purchaser for their property. Normally such vendors need solutions quickly but ethically and we are able to provide our borrowers with short term bridging loans which meet this need.
Bridging Finance for Property Refurbishment and Portfolio Building
Another common use of bridging finance is for property refurbishment. A client requires funds to refurbish a property for re-sale or rental and re-mortgage. Sterling Capital will lend the funds for the refurbishment on a separate security or on the property itself if it does not exceed 70% of independent valuation.

Clients who wish to increase their property portfolio use our services to fund deposits or purchase from developers where a rapid purchase increases discount. These loans can be secured by the purchased property or a separate security.

Bridge Financing for Repossession purchase and Property chain gaps
Clients require funds to purchase a repossessed property, or prior to repossession, at court. This can involve paying the arrears on the mortgage or paying off the total funds owed. However, due diligence is required on all repossession purchases so please contact us as soon as possible to allow time for funds to be drawn down. Sterling Capital will provide funds for property purchase where there is a gap in a sales chain. We will lend to a maximum of 70% independent valuation in these circumstances.