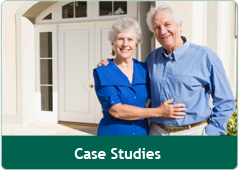 Bridging Finance

Borrower client based in Brighton in April 2010 had been in negotiations for several months with a vendor home owner who was unwillng to go through the stress of dealing with local estate agents and agreed a purchase price for her property of £170k. Our independent property surveyor valued the property at £250k and as a private sale the surveyor was made aware that the eventual purchase price may be dependent upon his valuation. The borrower was able to borrow 100% of the purchase price thereby contributing no deposit of equity into the tranacation himself. The property was sold for £245k in November 2010 netting the Borrower a gross profit of £75k and a net profit after transaction costs and interest costs of £60k for no financial risk.
Auction Finance

Borrower client based in Southend had successfully bid at a local auction to purchase a property for £135k. A competing short term funder offered a facility for an amount of £90k of 60% of the purchase price. However, as settlement of the transaction was due within 28 days and the independent valuer reported that the property was unmortgageble for traditional lending purposes, the short term funder withdrew less than 1 week to completion.

As Sterling Capital regularly finances unmortgageable properties, we were able to comple the funding within the 28 days on more favourable commercial terms and also to provide 95% of the refurbishment costs. This client has since completed two further transactions with us.
Joint Venture Equity

An experienced property investor in Dorset approached us with an Joint Venture opportunity where the vendor was suject to a 48 hour eviction order from her lender due to arrears running for over 13 months.

Within 24 hours we had approached the lender via their solicitors with an offer to buy the property as principal and to pay off 100% of the lender arrears as well as all the vendors unsecured and secured debts thereby leaving the lender with a fully repaid loan and the vendor debt free. Additionally we also paid the vendors rent in a property of her choice for the next 18 months to provide her with stability during the transition period. The property was resold 3 months letter and profits split under the Joint Venture Equity agreement with the property investor.
Second Charge Lending

A well established printing company in South West London was unable to raise funding form its traditional bank as they had withdrawn from supporting their smaller customers fixed asset puchase needs. In order to fund the purchase of a new printer, vital to the expansion of the business, Sterling Capital were able to take a second charge over a buy to let property owned by one of the directors and currently charged to a leading European Bank. Within 10 days we had negotiated an inter-creditor agreement with the 1st charge lender and provided drawn funds for a period of 24 months to allow for the purchase of the new printer secured by a second charge and a personal guarantee from the director.