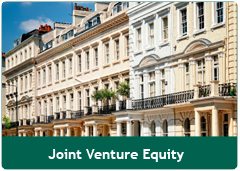 Joint Venture Equity
Sterling Capital allocates tranches of its overall funding lines for Private Equity Investment into residential property transactions as Joint Venture Partner.

This type of funding is suitable for borrowers who have limited access to capital but are able to share in the profits of the transaction with a defined origination and exit strategy.

The transaction will be funded through an SPV. The deal originator will have demonstrable track record in delivering similar projects in size, scale and strategy.

Typical deal criteria

Size is £250,000 to £2,000,000
Liquid local markets only with strong end user demand
Projects likely to be either unlocking or creating value with profit on cost of 22pct +
We also fund assignables, long stop completions and options.
Special Purpose Vehicle Funding

We will fund the SPV with third party bank debt leveraging our relationships
We have with long established commercial bank balance sheet lenders who can provide finance up to 60% of the site acquisition plus hard costs and up to 100% of the development costs which are drawn down at pre-agreed project stages. As a general principle, the level of funding available will increase the greater the profitability of the project. Total funding including interest costs and allowable fees is generally limited to a maximum of 65% of the Gross Development Value of the project. Balance sheet lenders are much cheaper than cash or market place lenders but not accessible widely